Valli is the creation of pioneering Otago winemaker, Grant Taylor.
Grant's name is synonymous with Otago Pinot Noir. He has been crafting wines in the region since 1993 when there were only 20 hectares planted - today there are over 2,000. Over the past 27 years he has made the first wines for a number of iconic Otago wineries, but now the serious focus is on his own creation, Valli.
Established in 1998 and named after his Great-Great Grandfather, Giuseppe Valli, who immigrated to New Zealand from an Italian winemaking background, Grant founded Valli with the aim of creating true representations of Otago's subregions with unflinching intensity and purity. This was also a first for the region – no one had attempted to capture, let alone master the developing subregional plot that has now begun to unfold as the next exciting chapter in the Otago wine story.
In 2015, established Otago winemaker Jen Parr joined Grant in the winery where the pair aims to create wines with honesty, integrity, and most importantly, a sense of place.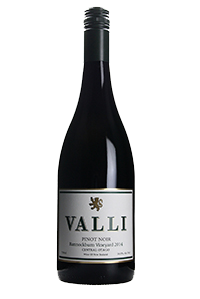 Based around the close-planted estate vineyard in Gibbston,
Valli also produces Single-Vineyard Pinot Noirs from Bannockburn and Bendigo in Central Otago and the Waitaki Valley, North Otago, as well as a Pinot Gris from Gibbston and a Riesling from Waitaki.
"His wines are suffused with personality and charm and Grant obviously has an acute understanding of what makes great Pinot Noir."
-Robert Parker's Wine Advocate